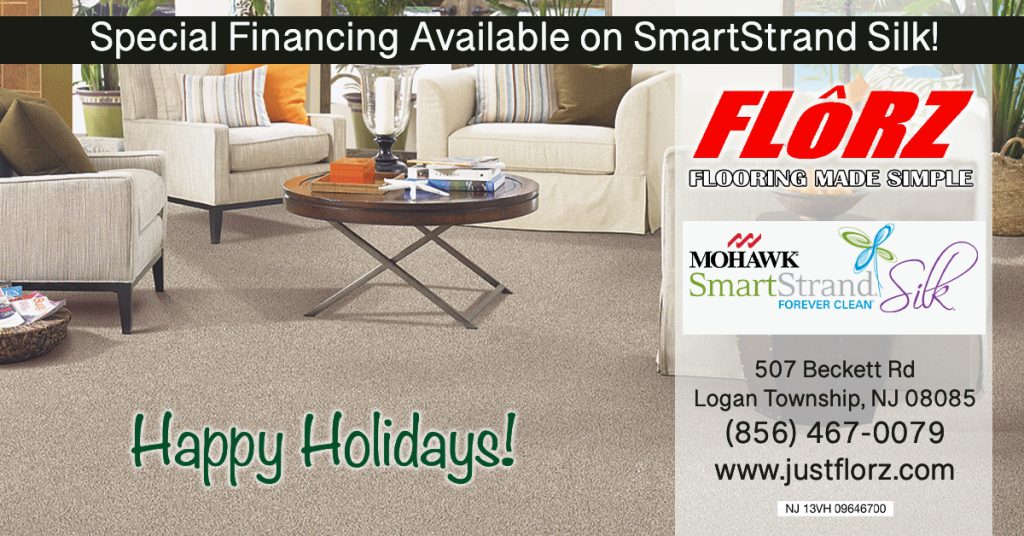 Special Flooring Financing Available!
Florz Flooring is offering Special Flooring Financing! Qualified buyers can enjoy special flooring financing on Mohawk's SmartStrand Silk! SmartStrand Silk is an environmentally friendly flooring, which is beautiful, durable, colorfast and Pet Friendly with Forever Clean! SmartStrand Silk offers permanent stain resistance, spill and soil protection. In addition, it has exceptional durability and incredible softness! SmartStrand Silk is truly made for extraordinary living!
Financing Details
Qualified buyers can enjoy the following financing tiered offers:
Orders up to $3,000.00 can take up to 12 months to pay interest-free!
Orders from $3001.00-$8,000.00 can take up to 24 months to pay interest-free!
Orders from $8,001.00 and up can take up to 36 months to pay interest-free!
Click the link below to pre-qualify for special flooring financing!
Environmentally Friendly
Carpet fiber is made in part from annual renewable plant-based ingredients.
Exceptionally Durable
Exceptional durability preserves the style, beauty and appearance of your carpet.
Extraordinarily Clean
SmartStrand Forever Clean offers spill and soil protection and permanent stain resistance.
All Pets
Every pet deserves to be considered part of the family. That's why All Pet is the only comprehensive stain warranty with no pet exclusions.
All Accidents
All Pet floors are designed to cover all pets and all their accidents. We all know that accidents happen. With All Pet, you don't have to read the fine print. Rest assured that your pet's accident will not stain your floor.
All The Time
With All Pet stain warranty, you don't have to worry about the protection wearing off over time. We know that pets are often repeat offenders. With All Pet floors, you have lifetime protection from pet stains.
Visit Our Showroom
We would love to see you at our Showroom! You can check out the latest products! And when it comes time for installation, we use OUR installers, who are experienced, insured and treat your home with the respect it deserves. Our sales Representatives will walk you through the entire process and ensure your desires are heard and your needs are met!
We look forward to meeting you!