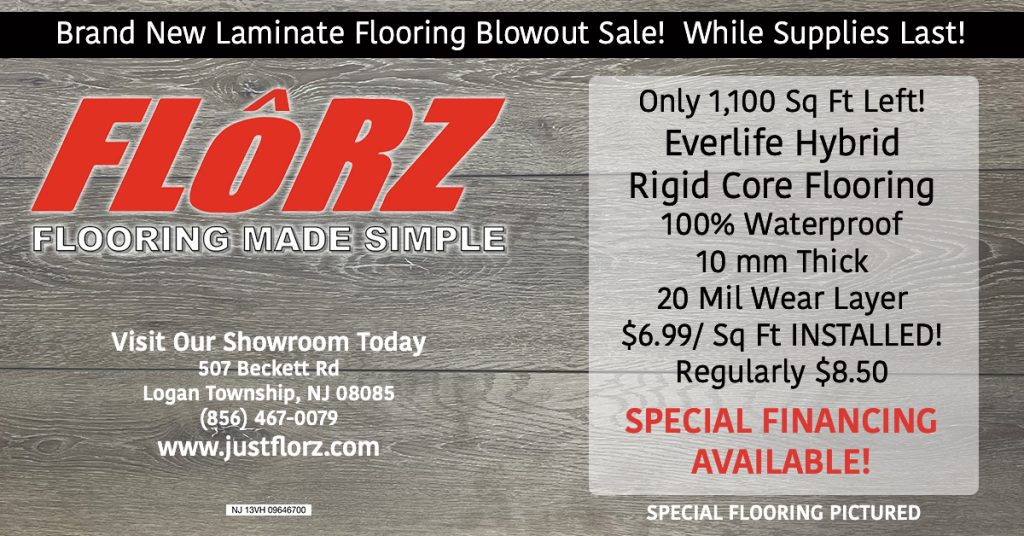 Everlife Laminate Flooring Blowout
Florz is offering a Laminate Flooring Blowout Sale on Everlife Hybrid Rigid Core Flooring! We have 1,100 square feet remaining. Specially priced at $6.99 per square foot INSTALLED! This product is usually sold at $8.5- per square foot installed. Everlife Rigid Core Flooring is 100% waterproof, and is 10mm thick with a 20 Mil wear layer. Hurry in to our showroom today before the supply is all gone!
Mannington Flooring Also Featured
Restoration Collection® Laminate from Mannington offers beautiful looks that emulate the warmth of hardwood, but with the easy maintenance and super durability. Mannington's Restoration Collection® Laminate has a complete line of wood designs that you'll find anywhere and thanks to their proprietary technologies that produce precise embossing and texturing, you'll have a hard time believing it's not real hardwood.
Why Choose The Restoration Collection® Laminate?
Mannington's award-winning Restoration Collection® now features SpillShield®Plus Waterproof Technology. No need to worry about spills, melting ice cubes, water dripping dogs and more which makes it great for kitchens, bathrooms, laundry rooms, and mudrooms.
Best-in-class style and design. Mannington's in-house styling team ensures that each design offers the most realistic wood looks in the market.
The entire Restoration Collection® is made in the USA
All Mannington floors are FloorScore® certified which means they are independently tested and meet stringent indoor air quality standards. This certification also qualifies all of our floors for low VOCs
Special Financing Available
As always, Florz Flooring in Logan Township, NJ offers special financing. Please click on the link below to see if you qualify during our Laminate Flooring Blowout Sale!
Visit Our Showroom
We would love to see you at our Showroom! You can check out the latest products! In addition, when it comes time for installation, we use OUR installers. They are experienced, insured and treat your home with the respect it deserves. Our sales Representatives walk you through the entire process and ensure your desires are heard and your needs are met!
We look forward to meeting you!
Visit us on FaceBook.
Check us out and follow us on Twitter