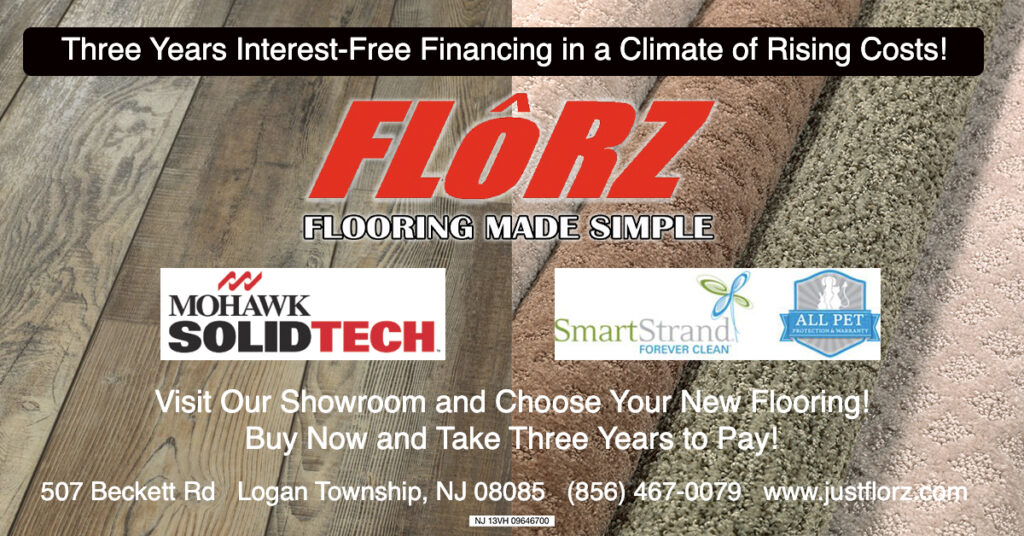 Affording New Floors in Today's Economic Climate
You want new floors in your home. How can you afford them in today's high cost climate? Florz has the answer. With three years interest free financing, you can defer your costs and make manageable payments.
Three Years Interest Free Financing
At Florz Flooring in Logan Township, NJ, we understand that the cost of goods are rising. Flooring is no exception. Supply issues are at the forefront of this. Fuel costs for delivery, raw materials costs are increasing and warehousing costs are skyrocketing. At Florz we are making sure we can get the best pricing possible by buying large quantities of our most popular flooring styles. But more importantly, we are offering three years interest-free financing on new floors for your home! To pre-qualify for this special financing, please click the link below, then visit our showroom.
Material Costs are Rising
Here is some information regarding materials costs rising.
The cost of building supplies continues to outpace inflation, according to data compiled by the National Association of Home Builders.
Building material prices increased 20.4%, year over year, and have risen 31.3% since January 2020. NAHB based its conclusions on research from the Federal Bureau of Labor Statistics (BLS) for February 2022.
The Producer Price Index (PPI) for softwood lumber, seasonally adjusted, increased 2.6% in February following a combined 28.9% increase over the previous two months, NAHB reported. In six months, prices have increased 79.5%. According to Random Lengths, a company that tracks and analyses data from the lumber industry, the "mill price" of framing lumber has more than tripled since late August.
The PPI for ready-mix concrete (RMC) rose 0.8% in February after increasing 1.1% in January. The index for RMC has been relatively volatile since mid-2020 and has climbed 8.2%, year over year. Prior to January 2021, year-over-year price increases had not exceeded 8% since December 2006.
Not all segments are seeing continued price spikes. After a 12-month period during which the prices of exterior and interior paint increased 30.3% and 21.2%, respectively, NAHB determined paint prices held relatively steady in February. The prices of exterior architectural coatings gained 0.1%, and interior architectural coatings PPI rose 0.3%.
Some segments showed declines. Steel mill products prices declined 9.9% in February, the second consecutive decrease after increases in each of the prior 15 months. The last time the steel mill products PPI decreased more than 9% was December 2008. While January and February have been good months for the cost of derivative steel products, the PPI remains 74.4% greater than it was 12 months ago, the NAHB said.
The PPI for gypsum products declined 1.9% in February, snapping an 11-month streak of increases during which the index climbed 31.4%. Gypsum products prices are up 20.7%, year over year. Among other uses, gypsum is found in plasterboard or drywall.
Trust Florz Flooring for Quality Installation!
When it comes time for installation of your new floors, we use OUR installers, who are experienced, insured and treat your home with the respect it deserves. Our sales Representatives will walk you through the entire process and ensure your desires are heard and your needs are met!
We look forward to meeting you!
Visit us on FaceBook. 
Check us out and follow us on Twitter
Source: Nation Mortgage Professionals