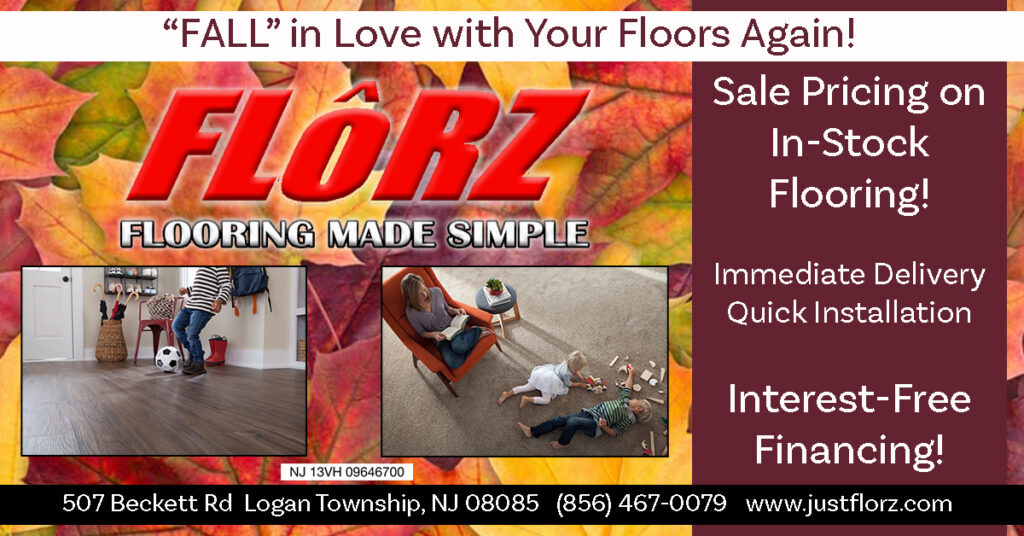 Don't Miss Our Fall Flooring Event!
Florz Flooring's Fall Flooring Event is on! As the warm days of Summer come to a close, our thoughts turn to cooler days. Kids' soccer games, College & NFL Football parties, falling leaves and muddy shoes all can take a toll on your floors. In addition, the back to school traffic and more time spent inside challenge your floors as well! It's time to replace those floors with durable luxury vinyl flooring or Carpets with stain and pet protection.
We are reducing prices on all our in-stock flooring, which ensures immediate delivery and quick installation. And we always carry the latest and greatest styles and quality. This means you are getting the most popular flooring and the best prices! Furthermore, you can take advantage of interest-free financing! Click the image below to pre-qualify for interest free financing in addition to sale pricing during our Fall Flooring Event.
Recent Tornadoes in South Jersey
Last week tornadoes ripped through out South Jersey Neighborhoods. We were fortunate that our Showroom and Warehouse escaped without damage. But many of our friends, neighbors and fellow businesses were not so lucky. Folks lost homes, businesses and animals. We pray that their recoveries will be swift and that their businesses will bounce back.
If you have suffered damage from the Tornado, please give us a call and see if we can help. We have great experience working with Insurance Companies and our Interest Free Financing can help you offset costs while you are paying for other repairs. We are all in this together, so don't hesitate to call us.
Visit Our Showroom
Stop by to see our displays of flooring, which will best suit your needs. Our Fall Flooring Event is on!
When it comes time for installation, we use OUR installers, who are experienced, insured and treat your home with the respect it deserves. Our sales Representatives will walk you through the entire process and ensure your desires are heard and your needs are met!
We look forward to meeting you!