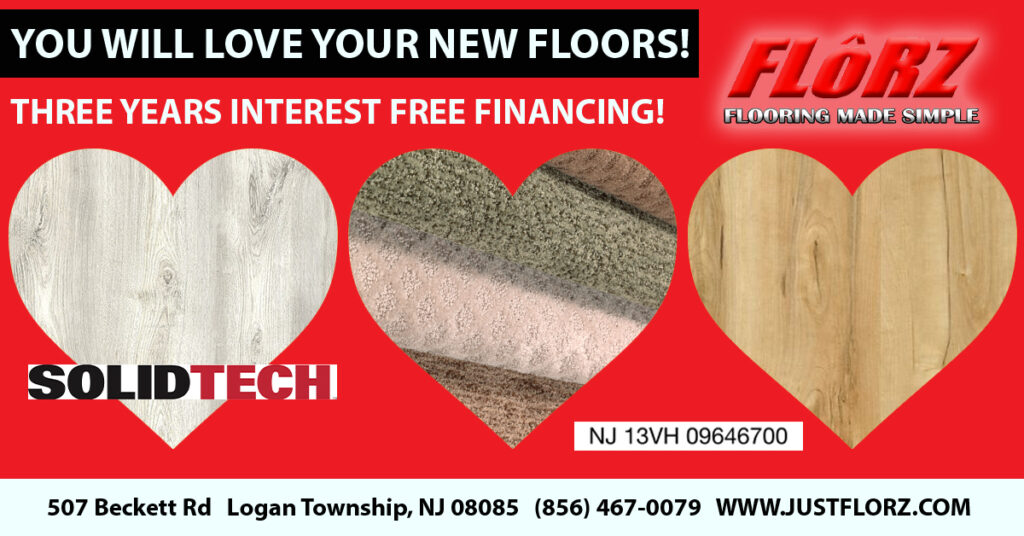 Durability and Beauty Ensures you will Love Your Floors!
What will make you say you love your floors? At Florz Flooring in Logan Township, NJ, we have the answers! The ideal flooring takes many things into consideration. First you have your desired treatment be it Carpet, Luxury Vinyl, Tile or Hardwood. Next, you make sure that those applications make sense for the areas you want them to be installed. So, no carpet in the bathroom! High Traffic areas like kitchens and mudrooms would be served well with Luxury Vinyl Planking. Relaxing areas such as a den or bedroom would benefit from durable, comfortable and stain resistant carpet. Hardwoods are beautiful in Offices Dining Rooms.
Three Years Interest Free Financing!
Florz is continuing our offer of three years interest free financing to qualified buyers. We know the Pandemic has hit everyone hard. So we want you to still be able to enjoy your home and love your floors! Click the link below to qualify for special financing.
The Best Installers!
If your really want to Love Your Floors, Please visit Florz during our Flooring Showroom Sale! When it comes time for installation, we use OUR installers, who are experienced, insured and treat your home with the respect it deserves.  Our sales Representatives will walk you through the entire process and ensure your desires are heard and your needs are met!
We look forward to meeting you!