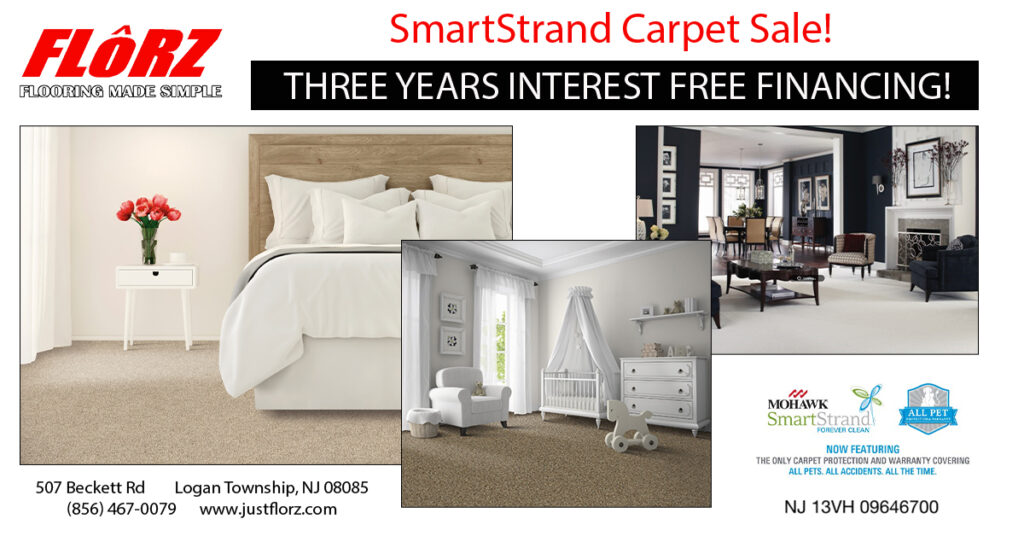 Our SmartStrand Carpet Sale is on!
We are excited to announce our SmartStrand Carpet Sale begins this Friday! SmartStrand Carpet with AllPet protection combines beauty and durability. Carpet is an excellent application in Bedrooms, Family Rooms and on Stairs. And SmartStrand delivers the peace of mind that comes with stain fighting and odor protection.
Mohawk All Pet Protection & Warranty is the only carpet protection and warranty for all pets, all accidents, all the time. Because your pets are family members too. No matter how you live, we've got you covered. Soft, luxurious SmartStrand Forever Clean Carpet. Mohawk has the ultimate floor for every room in your home, that's suitable for ALL Pets. It's time to love your floor, with your entire family, thanks to All Pet Protection & Warranty from Mohawk. 
SmartStrand offers extraordinary cleanability and permanent stain resistance, resulting in fewer customer claims!
Exceptionally Durable
Exceptional durability preserves the style, beauty and appearance while offering your customers the confidence they can only get from the most recognized name in carpet.
Environmentally Friendly
Made in part from annual renewable plant based ingredients, SmartStrand makes it easy for you to connect with your environmentally conscious customers.
The Best Installers!
If your really want to Love Your Floors, Please visit Florz during our SmartStrand Carpet Sale! When it comes time for installation, we use OUR installers, who are experienced, insured and treat your home with the respect it deserves.  Our sales Representatives will walk you through the entire process and ensure your desires are heard and your needs are met!
We look forward to meeting you!