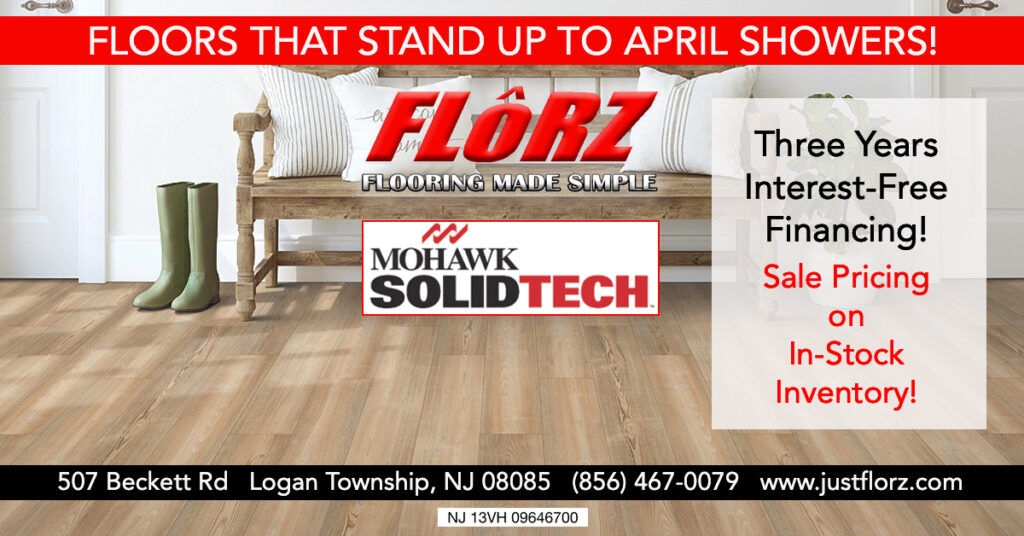 Waterproof Flooring from Mohawk
With April Showers comes the need for waterproof flooring from Mohawk SolidTech. At Florz Flooring in Logan Township New Jersey, we have you covered! Furthermore, we are offering sale pricing on in-stock SolidTech Luxury Vinyl.
Beautiful and Durable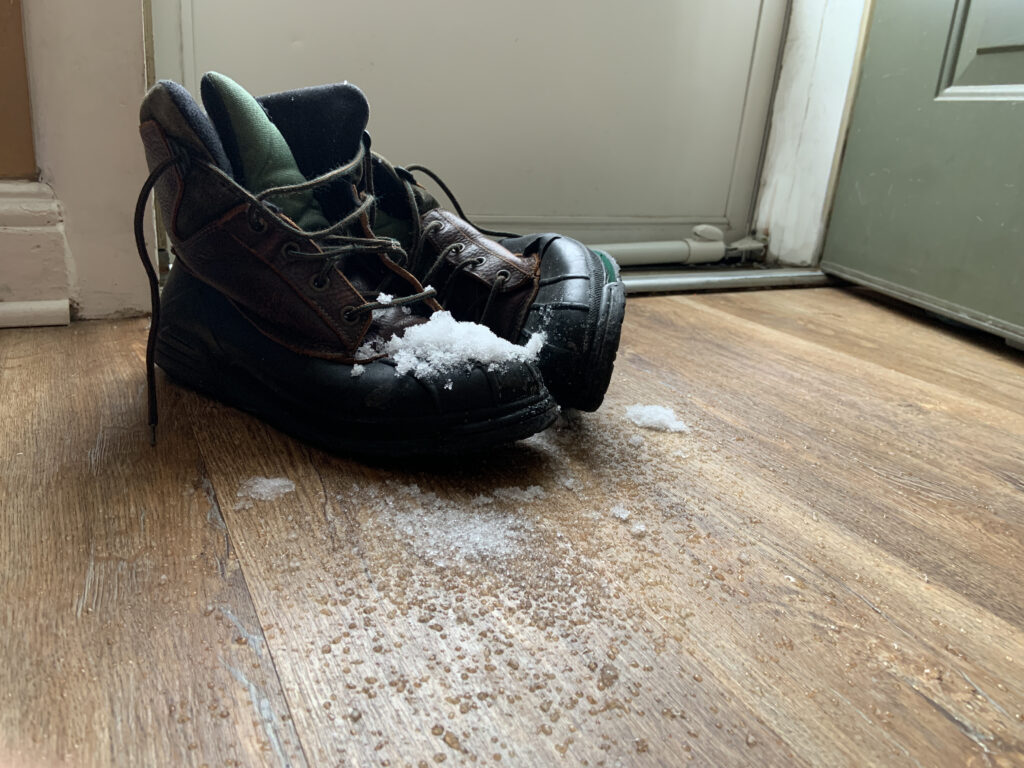 WHY WATERPROOF FLOORING, WHY SOLIDTECH
Whether it's your pets scampering across the floor after an afternoon in the park or the spills that always seem to happen around your toddler, you need waterproof flooring that can handle everything that happens in your home.
However, just because you're looking for tough flooring doesn't mean that you want to make sacrifices when it comes to their looks.
You need flooring that matches your decor, gives you tons of style options and lends your home a high-end look — in any room in your home. You're also on the hunt for flooring that's easy to install, safe, and will last for years to come.
But is finding all of that really possible?
With SolidTech, Mohawk's premiere waterproof flooring line, it absolutely is.
Mohawk is one of the most trusted brands in the flooring industry, and after this post, it won't be hard to understand why.
Read on to learn more about what makes Mohawk SolidTech the top choice for so many families.
WHAT IS MOHAWK SOLIDTECH FLOORING?
Before we get into the specific reasons why you should choose SolidTech for your home, let's first make sure you understand what it is.
Though designed to look like real hardwood or stone, Mohawk SolidTech is actually a completely unique luxury vinyl flooring system, the parent category is called LVT (Luxury Vinyl Tile). The sub-categories are so numerous it can get confusing fast, some may refer to it as LVP, the "P" for plank, however SolidTech is a LVT with the sub-category of SPC (Stone Plastic Composite), which is really in reference to the core. The core is SPC and the top layer is a LVT.
The planks are much wider than most, and come with a low-frequency pattern repetition to make it look exactly like real hardwood — but without all the hassle. It comes with an All Pet warranty, too. This means it's perfect for a home with lots of four-legged friends.
You can use this flooring option anywhere in your home, even including your basement,bathroom, and mudroom. We suggest putting it in your entire home ;)!
IT'S WATERPROOF — NOT WATER-RESISTANT
If you've ever tried to fix a water-damaged floor, you know that it's usually a complete nightmare.
And even after those hours of work? Your floor still doesn't look as good as it did before the water damage hit. SolidTech Mohawk flooring has helped you to avoid this problem by creating floors that aren't just water-resistant but are instead completely waterproof. So, how does it work?
First of all, the planks come complete with Uniclic Technology, which is a glueless locking system that keeps tension strong between the floor planks. This means that the joint will trap any liquid that ends up on the floor on the surface — instead of slipping in between the cracks.
Mohawk also uses pressed bevels. This means that the edges of the planks are completely covered in a protective coating. This prevents any kind of liquid or moisture from reaching the core.
In short?
You get three amazing layers of protection against water damage. SolidTech flooring is even hurricane-proof!
THREE YEARS INTEREST FREE FINANCING!
Florz Flooring is offering three years interest free financing on SolidTech Luxury Vinyl Flooring. To pre-qualify for financing, click the link below.
The Best Installers!
If your really want to Love Your Floors, Please visit Florz during our Spring In-Stock Inventory Sale! When it comes time for installation, we use OUR installers, who are experienced, insured and treat your home with the respect it deserves. Our sales Representatives will walk you through the entire process and ensure your desires are heard and your needs are met! And don't sweat the April Showers! SolidTech Luxury Vinyl is totally waterproof flooring!
We look forward to meeting you!