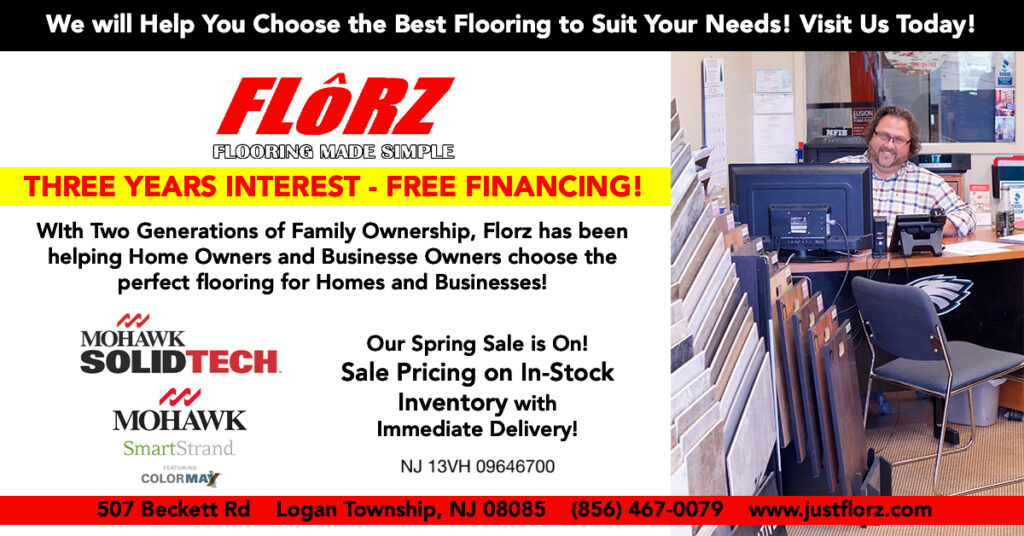 Our Consultants are here for you when you are choosing the perfect flooring!
Choosing the perfect flooring for your home or business can be a daunting task! But our highly experienced showroom consultants are here for you! There are many things to consider when choosing flooring. Items such as foot traffic, typical use, small children, pets and color schemes all factor in. Furthermore, are your ne floors part of a larger renovation? Florz Flooring in Logan Township, NJ can help. We can coordinate with you in regards to installation timing and delivery times.
Below are some of the most popular flooring options and some things to consider.
Luxury Vinyl Flooring
Luxury vinyl plank is an easy to clean flooring that is an affordable option for any home. It stays warm in the colder temperatures, is more difficult to damage. Luxury vinyl plank is water-resistant, and stains can be easily removed from it.
Many renovators are choosing luxury vinyl plank because it mimics the look of real hardwood flooring. You can achieve the same warm, classic aesthetics at a much lower price.
It can be installed quickly, and affordably. When installing luxury vinyl plank, it's important to make sure that the floor is level before placing, otherwise the pieces may pop out of place. Luxury vinyl plank does not require an underlayment, helping with cost reduction.
Carpet Flooring
Most homes probably have carpet somewhere in the home, and for good reason. The temperature of carpet textures is uniform throughout the year and is soft on your feet. Many agree that carpet flooring is the coziest option. This is why it's common in bedrooms and family rooms.
Carpet comes in a variety of styles and colors and is sold at a variety of pricing levels, depending on the luxury or quality of carpet you're choosing. It's easy to clean with shampooing and vacuuming and can reduce noise, making it a good choice for bedrooms, playrooms, or other living spaces. An underlayment is of the utmost importance when installing carpet because it will act as a cushion for the floor, and allow it to stretch properly. As well, it can help to further reduce noise, and act as a second insulating layer.
Hardwood Flooring
Hardwood floors are a great investment for any home. They have a strong resale value and a classic look that adds warmth to any room. It's easily customizable to your taste, match to your furniture, and come in numerous neutral colours to help tie a whole room together.
Hardwoods act as a good insulator to keep the floors feeling warm year-round. It's long-lasting, easy to maintain, and doesn't trap dust and other allergens. Refinishing the floors is an easy process, as hardwood can be easily sanded and refinished numerous times. It comes in many different materials and styles, including maple, white ash, hickory, red oak, Brazilian cherry, and many others. Hardwood flooring typically requires an underlay for extra stability. Being a more popular flooring option, it is also easy to come by.
Florz Flooring is offering three years interest free financing on SolidTech Luxury Vinyl Flooring. To pre-qualify for financing, click the link below.
The Best Installers!
If your really want to Love Your Floors, Please visit Florz during our Spring In-Stock Inventory Sale! When it comes time for installation, we use OUR installers, who are experienced, insured and treat your home with the respect it deserves. Our sales Representatives will walk you through the entire process and ensure your desires are heard and your needs are met! And don't sweat the April Showers! SolidTech Luxury Vinyl is totally waterproof flooring!
We look forward to meeting you!