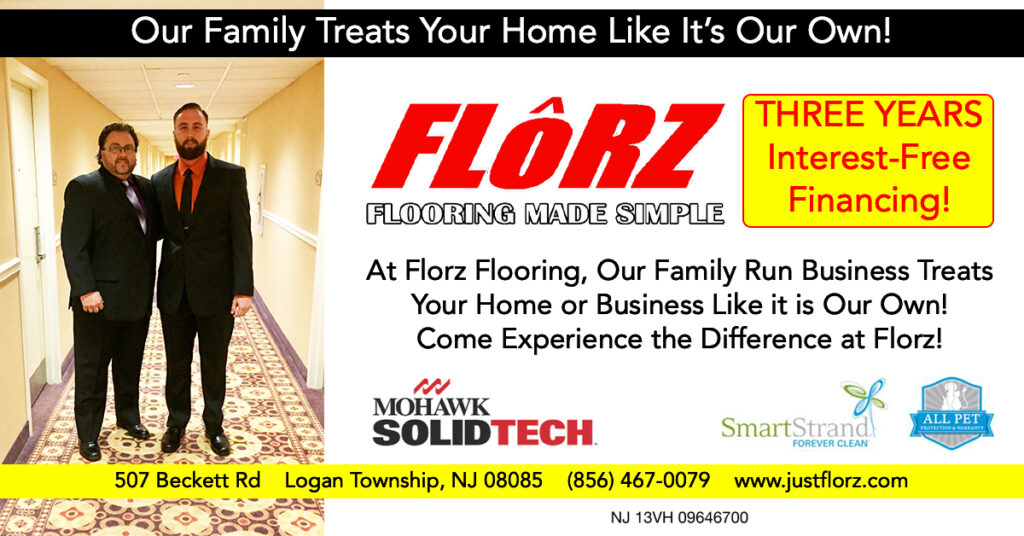 Visit Our Family Run Flooring Business in Logan Township
Our Family Run Flooring Business treats YOU like Family! At Florz Flooring in Logan Township, we care about your home or business. We listen to your needs. Furthermore, we care about your needs. That is why we consistently offer excellent financing options. In addition, we have huge supplies of in-stock inventory. At Florz Flooring, we know what are the most popular and best quality flooring options. We keep these items in-stock, which ensures immediate delivery!
Our Family Run Flooring Business takes our work seriously and personally. The Florz name and the Sweeney Family Name is on the line. We have so many referrals from satisfied customers because of this. Our pricing is always great. Our installers are on staff – not subcontracted. And our Sales Staff is extremely knowledgeable.
Three Years Interest Free Financing
Florz Flooring recognizes that prices on everything have gone up. To that end, we still want you to be able to make the home improvements you need. So we offer three years interest free financing to qualified buyers to help you manage your costs. Click the link below to pre-qualify for financing!
The Best Installers!
If your really want to Love Your Floors, Please visit Florz during our Spring In-Stock Inventory Sale! When it comes time for installation, we use OUR installers, who are experienced, insured and treat your home with the respect it deserves. Our sales Representatives will walk you through the entire process and ensure your desires are heard and your needs are met! And don't sweat the April Showers! SolidTech Luxury Vinyl is totally waterproof flooring!
We look forward to meeting you!