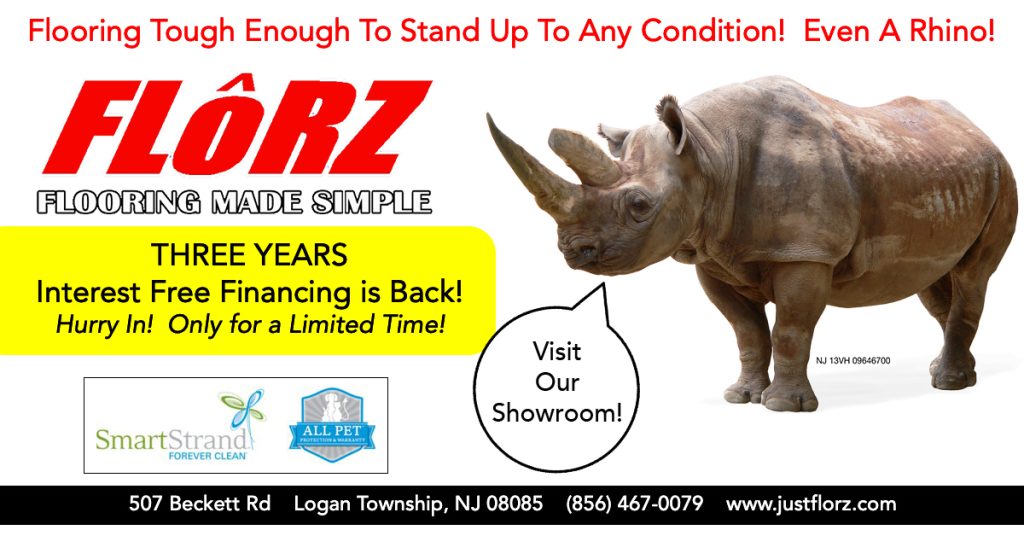 Durable Flooring from Mohawk
If you are looking for durable flooring, Floz Flooring has it! SmartStrand Flooring from Mohawk has Forever Clean technology and All Pet Protection! SmartStrand offers permanent stain resistance, spill and soil protection, exceptional durability, and superior softness. When it comes to exceptional living, SmartStrand carpet reigns supreme and is the only carpet that even a two-ton rhino can appreciate.
Heavy Is The Foot. Ready Is The Carpet.

AllPet. It's in the name. While being the 2nd largest mammal on earth, rhinos aren't considered pets, but if they were, even these mud enthusiasts are no match for permanent stain resistance as well as spill and soil protection. Additionally, Our SmartStrand line, just like these rhinos, are adored for their storied resilience and undeniable beauty. SmartStrand carpets are crafted to live on and designed to help keep your floors forever clean. If Smart Strand Carpeting can stand up to a Rhino, imagine how this durable flooring will perform in your home!
Three Years Interest Free Financing is Back!
That's Right! THREE YEARS Interest-Free Financing is back for a LIMITED TIME! When you consider how the interest rates on credit have been skyrocketing, three years interest free is a no-brainer! Simply click on the Synchrony link below and you can pre-qualify for your financing BEFORE you visit our showroom. This way you will know what your budget is and help you determine which durable flooring product is right for you!
Visit Our Showroom
We would love to see you at our Showroom! You can check out the latest products available from the top brands on the market. And for the largest selection of made in USA flooring! In addition, when it comes time for installation, we use OUR installers. They are experienced, insured and treat your home with the respect it deserves. Our sales Representatives walk you through the entire process and ensure your desires are heard and your needs are met!
We look forward to meeting you!