Converting your Basement to Usable Space..The "Man Cave"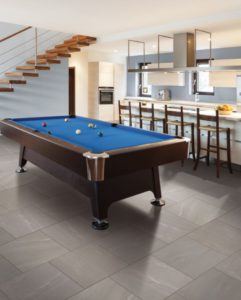 Basements can be one of the most challenging environments for flooring. The flooring you choose for a basement not only has to stand up to general wear and tear, but it must also withstand the dank, moisture-prone conditions in these underground spaces.
Vinyl is a common choice for basements. The resilient flooring adds comfort and warmth underfoot, it can realistically mimic beautiful hardwood or stone flooring, and it is easy to clean. However, keep in mind that not all vinyl flooring is created equal.
Water Resistant Vinyl Versus Waterproof
Wait a minute—all vinyl flooring is waterproof, right? Surprisingly, the answer to that question is no. Believe it or not, the majority of vinyl flooring is only water resistant. Although the surface of all vinyl flooring may repel water, the seams of most vinyl flooring allow water—and other liquids—to run through to the subfloor beneath.
Even though the basement subfloor is usually built of concrete, water can get trapped between water resistant flooring and the subfloor, creating the potential for mold and mildew to grow.
Only vinyl flooring clearly labeled "waterproof," like our SolidTech LVT, keeps moisture from seeping through the seams onto the subfloor below. Innovative technology in these systems creates an impenetrable connection between the rigid vinyl planks, trapping water and other liquids on the surface, where they can be wiped away easily.
Ease of Maintenance
Most vinyl flooring products are easy to clean … on the surface. The protective coatings of most vinyl floors resist dirt and grime, wiping up quickly with a damp cloth or damp mop.
But a child's dropped cereal bowl, your pet's "accident", or your best friend's spilled glass of wine will not conveniently sit on top of most vinyl flooring, waiting to be cleaned. Food, drinks, pet accidents and other routine messes will run through the seams of water resistant vinyl flooring long before you have a chance to collect the cleaning supplies. And once in the seams and under the flooring, the messes cannot easily be removed.
Waterproof vinyl systems, however, trap liquids and other messes on the surface, where they can be easily and thoroughly cleaned away. Waterproof vinyl products can even be wet mopped since the mop water won't penetrate at the seams.
Wear Resistance
Because vinyl is a resilient flooring, it gives slightly underfoot, providing warmth and comfort in basements, compared to concrete or ceramic tile. Unfortunately, the very qualities that make vinyl flooring more comfortable underfoot also make it more susceptible to wear.
Basements serve many purposes, commonly designated as playrooms, game rooms and/or family rooms. All of these uses invite rough and tumble activities that could potentially damage vinyl flooring or shorten its lifespan.
When shopping for vinyl flooring for your basement, look for products constructed for enhanced durability. The best products are built with a rigid core to resist denting and to stand up to high traffic areas. A rigid core also prevents imperfections in rough or damaged subflooring from showing through to the flooring surface, often referred to as "telegraphing".
Some vinyl flooring can be scuffed or scratched easily, even wearing through the design layer. High quality vinyl flooring options provide a tougher surface, engineered to resist scuffs and scratches from pet claws or children's toys, helping it to look newer longer.
Realistic Designs
Dated basements are clichés we all try to avoid. Shop for vinyl products that offer a wider range of the most chic styles and up-to-date color palettes, so your basement won't look like it's stuck in a previous decade.
The best vinyl flooring uses high resolution designs and realistic textures to provide incredibly authentic hardwood and stone looks. These products offer designs so true to life, even the most discerning eye may be fooled. Friends and family may not believe you when you tell them it's not hardwood!
Basement Bottom Line
When it comes to vinyl flooring for basements, the most important takeaway is: don't cut corners. Discount flooring may seem like a great deal, but ultimately it will cost you time and money when you have to replace it sooner. Look for high quality, durable products that resist scuffs, scratches and stains, especially if you have children or pets. If your basement is prone to moisture and messes (and whose isn't?!) opt for products labeled "waterproof" to ensure your basement stays fresh and clean.