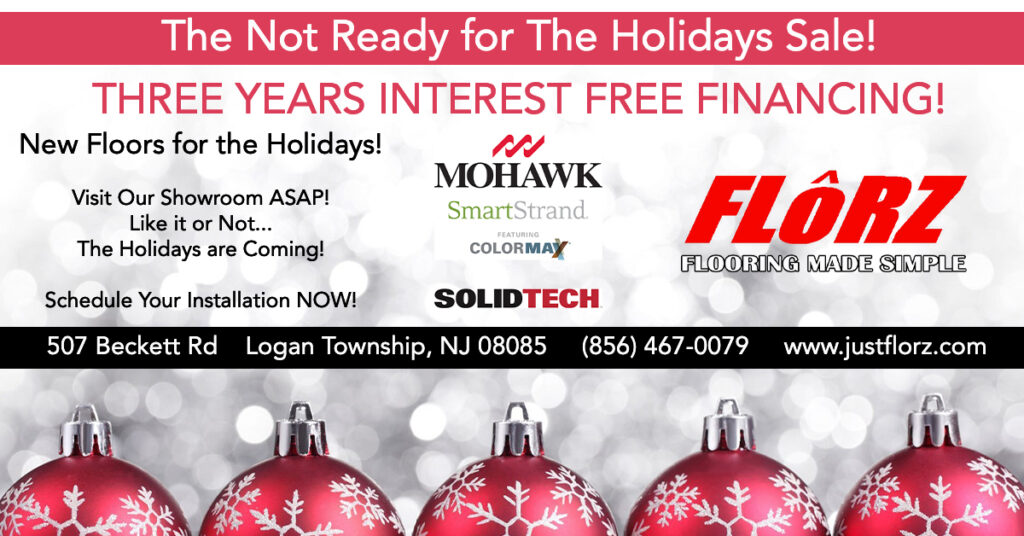 Florz Flooring's Pre Holiday Flooring Sale!
Our Pre Holiday Flooring Sale is here! We know…We know.. It's too early to talk about the Holidays! But we must. That is, if you want to schedule pre-holiday installation! Florz Flooring in South Jersey has your floors covered! Make sure YOUR floors are covered! Secure your pre-holiday new flooring installation today! For pre-approval, and THREE YEARS INTEREST-FREE FINANCING, click the link below:
The Holidays are coming if we like it or not! And that means Company is coming. Are your floors up to the task? Furthermore, do you have the right floors? High traffic areas such as mudrooms and kitchens should have solid surfaces, such as Luxury Vinyl, Hardwood and Ceramic Flooring. "Chill" areas such as Bedrooms and Media Rooms typically call for Luxurious, durable and stain resistant carpeting.
Are You ready for Some Foot Traffic?
Company is coming! They are coming to watch the game. They are coming to complain about the referees atb yo0ur kids' soccer game. They are coming to sit around your fire pit. It is Fall and they are coming soon! Make sure yo0ur floors are ready with new Luxury Vinyl Flooring from Mohawk SolidTech. And relax on Pet-Friendly Flooring in your Bedrooms and Family Rooms!
Visit Our Showroom
Our Most popular SolidTech Flooring is in stock and ready for delivery! This means quick installation for you! Stop by to see our displays of flooring, which will best suit your needs. Our Holiday Flooring Sale is on!
When it comes time for installation, we use OUR installers, who are experienced, insured and treat your home with the respect it deserves. Our sales Representatives will walk you through the entire process and ensure your desires are heard and your needs are met!
We look forward to meeting you!